The Big Jump is a new path accessible by foot, bike, and mobility devices along Druid Park Lake Drive and 28th Street. It connects neighbors to jobs and recreation, and allows people who use wheelchairs to cross 83 safely and easily for the first time.
"Change is hard. But I imagine it was equally hard, if not harder, for the residents who had invested in this neighborhood when these beautiful homes lined the park to witness their front yard become a six or eight lane thoroughfare for suburbanites." — Councilman Leon F. Pinkett, Baltimore Sun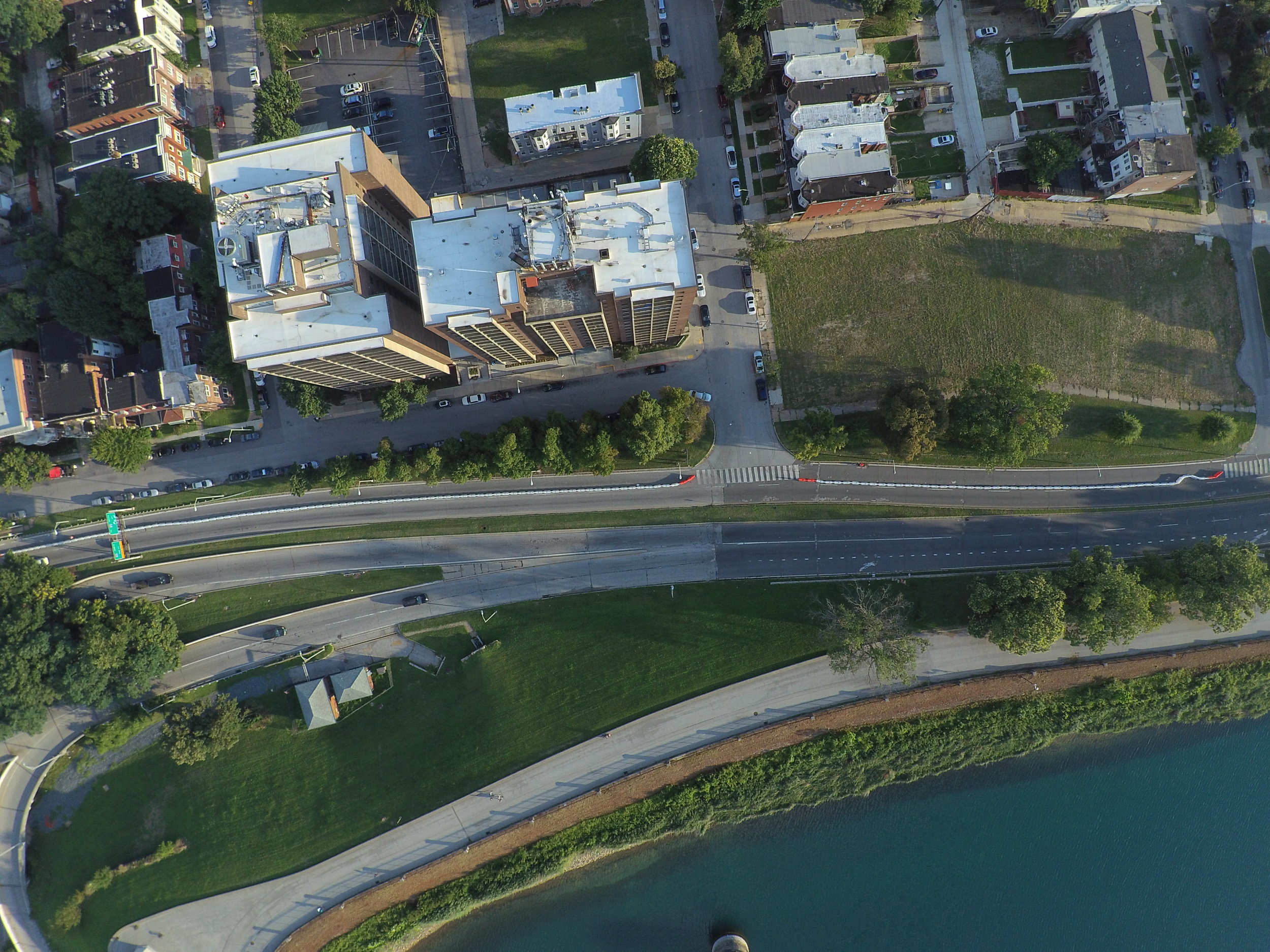 TOP 6 REASONS WE LOVE THE BIG JUMP
1. For the first time in at least 50 years, people using mobility devices like wheelchairs can safely cross I-83 and the Jones Falls Valley.
2. Neighbors — who were cut off from Druid Hill Park when Auchentoroly Terrace and Druid Park Lake Drive were made into highways for the benefit of suburban commuters — can now bike and walk to the park.
3. It provides choices to the 50% of households on the west side and 46% of households on the east side of the project that lack access to a vehicle, and connects them to jobs, shops, and opportunity.
4. It demonstrates that there is political will, vision, and skill to build walking, biking, and ADA accessible streets and paths in Baltimore.
5. It's fun! It feels comfortable and safe to walk your dog or ride bikes with your kids, and you get to see an amazing view of Baltimore from the 28th Street Bridge.
6. As a temporary project, it lets us reimagine our streets and see what works.
BIG JUMP BLOCK PARTY
On August 26th, 2018, we repurposed a vacant lot at the intersection of Linden Avenue and Druid Park Lake Drive to host a block party celebrating the Big Jump with food, music and interactive art, plus group bike rides, walking tours and family friendly activities in the Big Jump path!
Photos from the block party
Photobooth from the block party
WE THANK OUR EVENT SPONSORS
Druid Park Lake Partners, LLC
FAQS
Where does the path go?
Who can use the path?
The path across the 28th Street Bridge and Druid Park Lake Drive is intended as a shared use path, going both directions. This means you can bike, walk, skateboard, use a wheelchair or mobility device, walk your dog, or go for a jog! The lane on Sisson Street is intended as a bike lane, since there is a sidewalk adjacent to it for other uses.
What does "The Big Jump" mean?
The name Big Jump comes originally from the grant that kickstarted this project, with the idea of investing in biking and walking infrastructure in a place that already had a groundswell of people biking and walking, but in which an investment would be able to kick start bigger change - and a significant increase in biking. But we also interpret is as a big jump across I-83, especially for people using mobility devices, that have no other way to cross; a big jump for Baltimore City DOT to make a significant commitment to designing and constructing safe, all ages bike infrastructure; and a big jump for our neighborhoods to reimagine what our public space looks and feels like, and what uses we dedicate it to.
Is this temporary?
The project is intended to be a one year pilot. The city intentionally chose and purchased the water filled barriers to create the path, because they are relatively inexpensive compared to other materials, and can be moved and adjusted. While the path is installed, Baltimore City DOT is undertaking a larger corridor study of Druid Park Lake Drive and Auchentoroly Terrace that will result in a menu of permanent options ranging from keeping the roads as is to installing road diets to removing the roads entirely. Extending the pilot beyond one year is a possibility depending on the outcomes of the larger corridor study.
How did this project come about?
The project began with a grant from the national organization PeopleForBikes. Baltimore City DOT applied for the grant, with support of Bikemore, aimed at increasing bike ridership and connecting neighborhoods. Reflecting that grant constraint, Baltimore City's application focused on improving connectivity between Remington and Penn North and Reservoir Hill.
Concurrently, the Druid Hill Park Reservoir project was coming getting started, and it was the right timing and leverage to get the Big Jump installed. In 2017, the Environmental Protection Agency began the $140 Million dollar project to install two underground drinking water tanks in Druid Hill Park. This project is expected to be completed in March of 2022. The construction has meant that one of West Baltimore's best recreational assets, the reservoir loop, has been rendered unusable for the next four years. In addition, the project requires taking away travel lanes on Druid Park Lake Drive in order to move heavy equipment to and from the construction site as well as install new pipes under the roadway to service the water tanks.
What's the historical context of this project?
From the 1940s through the 1960s, over the protests of the local NAACP and neighborhood associations, city-led car-oriented planning robbed local residents of Druid Hill Park's public health benefits. Literally paving the way for white flight, highway projects cut off the predominantly working class Jewish and African American neighborhoods from the park in exchange for faster commute times for mostly white suburban residents. Construction of the 1948 Druid Hill Expressway and 1963 Jones Falls Expressway resulted in the widening of Auchentoroly Terrace and Druid Park Lake Drive from two lane, park-front residential streets into a roaring five-to-nine-lane-wide highways equipped with only a handful of routinely ignored crosswalks.
Who supported this project?
We have received support and input from a number of organizations including:
Beth Am
Greater Remington Improvement Association
Mount Royal Community Development Corporation
Mayor's Bicycle Advisory Commission
Old Goucher Community Association
Reservoir Hill Improvement Council
Councilman Stokes, Councilwoman Clarke, and Councilman Pinkett
GET INVOLVED
Want to sponsor the Big Jump Block Party, bring out your step team, be a food vendor, table for your organization, volunteer, or something else? Want to partner to run exercise or recreation programming in the Big Jump outside of the event? Other ideas? Sign up to volunteer or email danielle@bikemore.net to get involved!